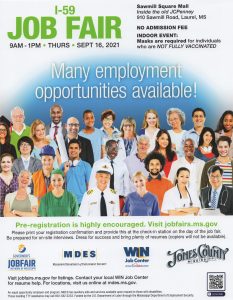 The Jones County Economic Development Authority is excited to partner with the Governor's Job Fair Network, Mississippi Department of Employment Security, and the WIN Job Center to host the I-59 Job Fair!
The EDA hopes to provide Jones County residents with the tools they need to successfully reenter the workforce.  There is no admission fee for applicants to attend the I-59 Job Fair. Masks are required for individuals who are not fully vaccinated. Pre-registration is highly encouraged and can be done online at www.jobfairs.ms.gov. Applicants should bring registration confirmation and provide it at the check-in station on the day of the job fair. There will be onsite registration available for those who do not pre-register online. Applicants should be prepared for on-site interviews and bring plenty of resumes as copiers will not be available. Contact the WIN Job Center for resume help. Dress for success and take advantage of this great opportunity!
Currently registered are At Home Care, Biloxi Police Department, DJ Transit, Domino's (RPM Pizza), Dunn Roadbuilders, Ellisville State School, Forrest General Hospital, Gipson Steel, Harrison County Sheriff's Office, Hol-Mac Corporation, Howard Industries, Ingalls Shipbuilding, Jones College Workforce College, Kohler Engines, Laurel Housing Authority, Management & Training Corporation , Mar Jac Poultry, Masonite, Mississippi Department of Corrections, Mississippi State Personnel Board, Mississippi Veterans Home – Collins, Parish Transport, Pearl River Resort-Bok Homa Casino, PG Technologies, Pine Belt Mental Healthcare Resources, PrideStaff, Rail Crew Xpress, Sanderson Farms, South Central Regional Medical Center, Group, ThermoKool, VT Halter Marine, and Wayne Farms. This event is sponsored by Mississippi Department of Employment Security, Governor's Job Fair Network, WIN Job Center, and Jones County Economic Development Authority.