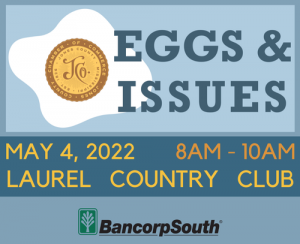 Join us at the Laurel Country Club as we host the Jones County State Legislators for a post-legislative session recap. We will hear from our local lawmakers on their experiences at the State Capitol during the 2022 session, and they will inform our business leaders on the issues and bills that could have an impact on our local economy and businesses.
Breakfast will begin at 8:00AM and the program will run from 8:30-10AM. Thank you to BancorpSouth for sponsoring this event.
Every Chamber Member company receives TWO FREE registrations. Additional registrations and non member registrations can be purchased for $10.
Register HERE.