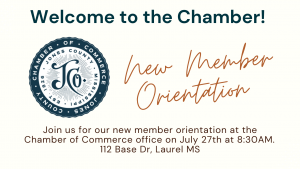 We are so excited to have received several new members in the past few months! We have also been reintroducing some of our programs that were temporarily paused during the pandemic last year. With so many new faces in the mix, we decided this was a great time to host a membership orientation. While one purpose of this orientation is to educate new members, it is always open to any member who may be interested in a membership refresher! If your company has a new employee, this may be an excellent way to introduce them to the community and educate them on how to maximize your membership.  We strongly encourage anyone to sign up!
This membership orientation will be hosted as a breakfast meeting on July 27 at 8:30AM. This meeting is completely FREE to attend. We will provide you with a free breakfast as we go over the many benefits and membership programs we have to offer you.
Don't be shy! This is a great time to ask questions for both new and existing members. If there is a program you are interested in learning more about, let us know! We can prepare more material covering that topic or program and have it available for you at the orientation. Even though this is a free event, please register so we can have a general headcount. You may register by calling the office at 601-649-3031 or online HERE.
Please don't hesitate to reach out with any questions! We are looking forward to a great membership orientation!