Chamber of Commerce Hosts Digital Marketing Lunch & Learn
May 24, 2018 – "Prioritizing Your Digital Presence" presented by Tyler Raborn, Raborn Media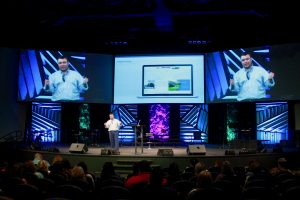 Nearly 100 Chamber members attended the second quarter Lunch & Learn on May 24 that was held at Life Church. Tyler Raborn, CEO of Raborn Media presented tools and tips for digital marketing for the Chamber's business members.
Not every community is lucky enough to receive national recognition from a popular television show. This coupled with growth in industry and professional services, businesses across our community have more eyes on them than ever before thanks to this growing interest in Jones County merchants, jobs and services. Tyler provided the audience with practical approaches to improving their brand's online presence through search engines, social media, content creation and more.
Follow the Chamber's social media channels (Facebook, Twitter & Instagram) and event calendar for announcements of future Lunch & Learns!
The Chamber would also like to thank Life Church for being our host location and for their video production services.
More About the Speaker – Tyler Raborn:
Tyler Raborn is the founder and CEO of Raborn Media, L.L.C, a full-service marketing firm. During his time at Raborn Media, Tyler has married creativity with cost efficiency to produce a ROI-centered culture. Through branding, budgeting, consulting, graphic design, website development, video production, digital advertising, traditional advertising, social media, and more, Raborn has helped a variety of businesses and nonprofits not only achieve, but surpass, their goals.
What are Lunch & Learns?:
A NEW series of Chamber hosted,  quarterly seminars that will feature expert speakers presenting timely topics on which all business can relate. Whether it be HR issues or the next trend in social media, Lunch & Learns will provide a local resource for education to activate growth for Jones County businesses. FREE for members to attend*, there will be ample networking time to meet with a cross-section of Chamber members and Jones County professionals.
Missed the Lunch & Learn?
View the clips by topic below from Tyler's presentation.

New Brick & Mortar and Claiming Your Brand
Call to Action
ROI for Your Time
Organic vs. Paid Reach
Promoting Your Brand With Video
Targeting & Display Ads
Wrap Up – The Growth of Video & Free Resources
Q&A – Part 1
Q&A – Part 2