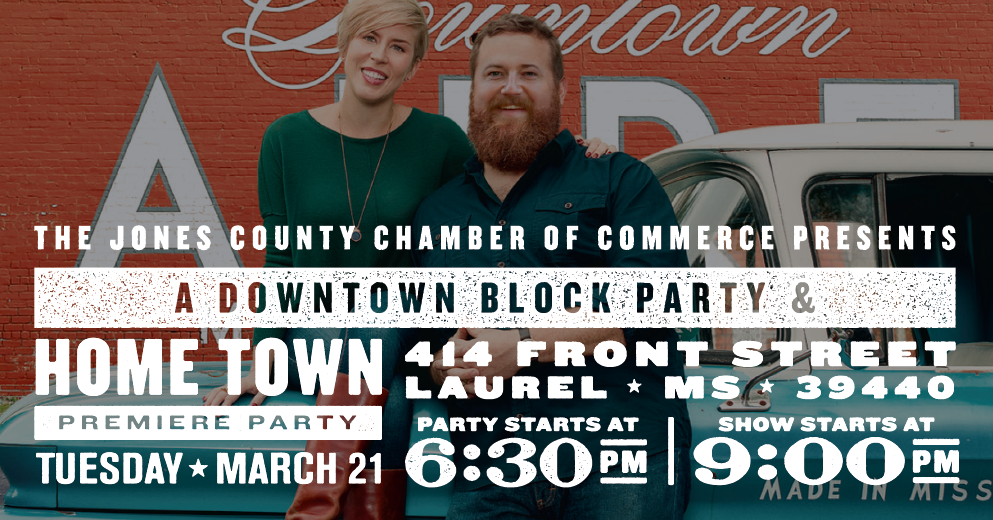 By Rebecca Patrick
In just a few short days, the national spotlight will shine on Laurel and Jones County as HGTV's newest series, "Home Town," premiers Tuesday, March 21, at 9 p.m. Hosted by Ben and Erin Napier, the show's pilot episode last year drew more than one million viewers, prompting HGTV to put a full season of shows into production.
To celebrate "Home Town's" premier, the Jones County Chamber of Commerce will host "Meet the New Chamber," a town hall block party, March 21, from 6:30 until 9 p.m. on Oak Street and Magnolia in downtown Laurel. If it rains, the event will be in the Laurel Train Depot.
"We are encouraging everyone to come out, take a stroll under the lights and enjoy the shops and restaurants," said Larkin Simpson, vice president of the Jones County Chamber of Commerce. "There will be live music and food vendors leading right up to the time 'Home Town' airs."
With "Meet the New Chamber" as evening's theme, the Chamber and Economic Development Authority are using "Home Town" excitement as an opportunity to introduce their revamped components and respective roles in the community. Focusing on the goals of visibility, credibility, advocacy and education, the more clearly defined roles should allow the entities to better serve the community.
"We've always had the assets in place," said Ross Tucker, president of the Economic Development Authority of Jones County. "Now, we are putting ourselves in a position to better serve them."
Directing its attention toward small/medium business development, retail attraction, membership investment and tourism, the Chamber hopes to further expand membership and benefits.
"The newly reorganized Chamber is comprised of diverse, focused, energetic individuals in our county that represent their organizations with the highest regard," said Alicia Walker of Sanderson Farms who serves as Chamber chair. "The Chamber is the largest pro-business advocate in our community. Our plan is to offer members-only perks, exclusive advertising opportunities and networking exposure for members. Our group is ecstatic to see the continued growth of our community."
A new initiative the Chamber offers is the Community Development Grant Program. Awarded on a first-come-first-served basis, these grants are designed as a 50/50 match for amounts not to exceed $1,000. The purpose of this new program is to encourage existing property owners and tenants to upgrade their buildings for public safety and accessibility for disabled persons. Grants can also be used to enhance building exteriors and improve the overall appearance of a facility.
Concentrating its efforts on large industrial recruitment, existing industry support, government affairs and asset development, the EDA wants to place more emphasis on the Chamber.
"The Chamber is the voice of local business," said EDA chair Jim Rasberry of Rasberry Financial Services. "We are so lucky to have the economic diversity and job offerings that we have here in Jones County. We at the EDA took stock of that recently and realized it's time to focus on our homegrown businesses. We have been so fortunate to be home to the pioneers and innovators of so many industries and it's time we celebrate that."
Rasberry added that the EDA will continue to make attracting new businesses a priority and will work in partnership with the Chamber to help those businesses grow that already call Jones County home.
The third and newest component is the Community Development Foundation, which is designed to assist with health and public safety initiatives, leadership development and broad community development.
George Bassi, director of the Lauren Rogers Museum of Art and chair of the CDF, explained that the CDF's formation provides the Jones County EDA and Chamber of Commerce with a new 501(c)3 nonprofit partner that will be the conduit for tax-deductible contributions to assist the Jones County community.
"The CDF's primary role will be as the fundraising arm of Leadership Jones County and Future Leaders of Jones County," he said. "Both of these leadership programs provide critical financial assistance and valuable volunteer service hours through community-wide projects each year. Additionally, the Foundation will hopefully facilitate a variety of community initiatives bringing together partners with similar interests to not only meet the needs of Jones County, but make Jones County a better place to live, expand a company or start a business."
Tucker believes that this revamping of Jones County Chamber and EDA is vital to being ready for the anticipated uptick in interest in Jones County and will position the community to take advantage of the situation economically. He pointed to Waco, Tex., as a prime example of the importance of being prepared for what happens to a community if a television series becomes a hit.
When HGTV's "Fixer Upper" took the nation by storm in 2013, the town of Waco, Texas, was not prepared for the resulting influx of visitors. Before the hit television show, Waco was best known as the home of Baylor University and not a place most considered to be a typical "tourist destination." Now, however, all that has changed.
In 2016, Chip and Joanna Gaines, stars of "Fixer Upper," opened Magnolia Market at the Silos. On average, Magnolia Market attracts about 2,000 visitors weekly. However, with Spring Break season starting, those numbers could soar even higher.
According to an article published in "The Waco Tribune" recently, the Magnolia Market's economic impact is pretty impressive. Carla Pendergraft, marketing director for Waco's Convention and Visitors Bureau, said that in March 2015, before Magnolia Market moved downtown, 86,000 people visited local attractions. In March 2016, after Magnolia Market opened, that number increased to 195,259. That was a huge increase in the already astounding 134,957 February 2016 numbers.
"As a frequent traveler to Waco, I have seen first-hand how 'Fixer Upper' has been a driving force in the area and cannot wait to see what windows of opportunity open for us as a result of 'Home Town,'" said Walker.
Could something similar happen in Laurel? Despite more than a year separating the airing of the pilot episode and the series premier, interest in the show has remained high. Nearly 22,000 people are fans of "Home Town's" Facebook page. On Instagram, Erin Napier has 36,000 followers, while Ben Napier has 21,000 and Laurel Mercantile has 25,000. Several of those fans have already come for a visit.
With the recent opening of the Napiers' store, The Laurel Mercantile, as well as numerous new boutiques, restaurants and specialty stores, Jones County appears poised to offer many more reasons for tourists to drop in.
"We already have people who come to Jones County to visit our existing places like Lauren Rogers Museum, Landrum's Country, Bok Homa Casino and The Deason House, all of which offer something unique to diverse groups of individuals," Tucker said.
Now, as interest in "Home Town" gains traction, Tucker believes there will be people who want to see where the show is filmed and take in the places it features. When this happens, the Chamber can help point these guests to the existing attractions, thereby benefitting the entire community.
"At the Chamber and EDA, we want to help everyone be prepared for the good things we believe are about to come our way," Tucker said. "If just one-tenth of those Waco numbers were to happen to us, that would be an incredible boost to our local economy."